Making a Stylish Statement with Pink Shirt and Pant Pairings
Pink may not be the first color that comes to mind when building a masculine wardrobe, but incorporating shades of pink into your shirt collection can add a stylish yet understated element to your look. When matched with complementary pants, a pink shirt offers men an opportunity to make a subtle fashion statement without being overly flashy.
In this article, we'll explore ten eye-catching yet sophisticated pink shirt and pant pairings perfect for men looking to embrace pink hues. We'll also provide helpful fashion tips and advice for pulling off these pink shirt combinations with confidence.
Light Pink Shirt with Grey Pants
A light or baby pink shirt paired with grey pants is a failsafe option for both casual and business casual settings. The muted cool tone of grey nicely complements a soft pastel pink shirt. To make this pairing office-appropriate, opt for a light pink dress shirt with the top button or two undone, sleeves rolled up and fitted grey slacks.
For weekend wear, try a light pink casual button-down with the sleeves cuffed and straight-leg medium grey pants. This look can effortlessly take you from brunch to running errands. Keep accessories minimal with this pairing – simple white sneakers or brown leather shoes and a watch complete the ensemble.
Dark Pink Shirt and Blue Jeans Combination
Want to incorporate pink in a more casual, laidback way? A dark pink shirt – think rose, fuchsia, or cranberry-hued – pairs perfectly with classic blue jeans. The contrast between the richness of the pink and the blue denim creates visual interest.
Button the shirt halfway for a smart yet relaxed look. Or leave it totally unbuttoned and layer it over a white tee for weekend wear. A dark wash straight leg or bootcut jeans elongate the leg. Complete this casual combination with leather boots or white low-top sneakers.
Pink Shirt Black Pants Formal
When it's time to suit up for a formal event or special occasion, a pink dress shirt with black pants is a sophisticated pairing. Opt for a rich pink hue that will pop against the black. A classic long-sleeve dress shirt with a spread or point collar and French cuffs is ideal, paired with well-tailored black slacks.
For black tie optional or creative black tie events, up the style ante by layering a black velvet dinner jacket over your pink dress shirt and pants. The pink will peek out stylishly from under the black jacket. Complete the look with dress shoes and a bow tie for a dashing pink and black combo.
Pink Shirt White Pant Combination
Keep things fresh and light for spring and summer with a pink shirt and white pants pairing. Crisp white pants pop when matched with just about any shade of pink – from the palest blush pink to bold magenta.
For daytime and resort wear, try combining a short-sleeved Hawaiian pink shirt with slim-cut white pants and brown loafers. Or don an untucked tailored light pink button-down with white trousers and nude suede shoes for garden parties and day events. This combo brilliantly captures the essence of the warmer seasons.
Pink Shirt With Grey Pants
As mentioned earlier, pink shirts pair seamlessly with grey pants. But a few style tips can take this combination from basic to bespoke.
Opt for different shades of grey – charcoal, slate, pewter, silver – for visual interest
Play with different pink intensities – try pale pink with dark grey and vivid pink with light grey
Introduce patterns and prints – pair a checkered or striped pink shirt with solid grey pants
Mix casual with formal – combine a pink polo or tee with grey wool trousers
Cuff sleeves and show some wrist – roll up the cuffs of a pink shirt to allow cufflinks or bracelets to peek out
With multiple shades of each color and variations in style, the options for wearing pink shirts with grey pants are truly endless.
Pink Shirt and Navy Blue Pants
Navy blue pants – whether dress trousers, chinos, or dark wash denim – effortlessly match pink shirts across the color spectrum. Navy and pink are analogous colors, meaning they sit side-by-side on the color wheel, creating an easy visual harmony.
For a business casual look, wear a salmon or coral pink Oxford shirt with navy chinos and brown leather loafers. For weekend wear, pair a fuchsia tee with dark blue jeans and white sneakers. Dress it up for the evening by combining a bold pink dress shirt with navy trousers, a blue blazer, and a navy and pink striped tie.
Navy blue works well with any shade of pink – feel free to experiment to find your perfect combination.
Light Pink Shirt with Navy Blue Pants
As mentioned above, navy blue and pink complement each other perfectly. Specifically, pairing soft light pink with navy results in a smart, nautical-inspired look.
Dressing for a formal occasion? Consider wearing a powder pink dress shirt with your navy suit.
For the office, don a pale pink dress shirt with navy trousers, finished with a navy blazer adorned with gold buttons. Add brown leather boat shoes for a refined weekend ensemble.
For an evening out, combine a light pink button-down with relaxed navy chinos and brown suede Chelsea boots. This look can easily transition from dinner to an art gallery opening.
Whether dressing for work or play, light pink and navy blue create a timeless combination for the modern stylish man.
Pink Shirt Combination Pants
Beyond navy, grey, black, white, and denim, there are many more pant options to pair with pink shirts. Get creative with pink shirt combinations like:
Light pink shirt with olive pants
Bright pink shirt with khaki pants
Salmon pink shirt with tan pants
Fuchsia shirt with burgundy pants
Dusty pink henley with grey sweatpants
Some colors like olive, tan, and burgundy naturally enrich a pink tone, while khaki and grey create an appealing contrast.
Don't be afraid to give more unique pant colors a try when looking for unexpected yet sophisticated pink shirt combinations.
Pink Shirt and Cream Pants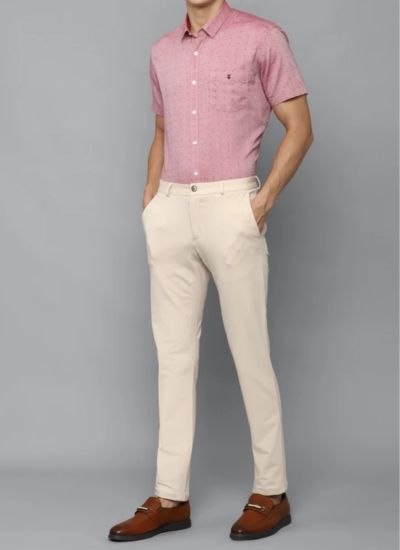 For a smart springtime look, combine a pink shirt with off-white or cream-colored pants. A light or softened pink works best with cream. Tailor the shade of pink you choose to align with the tone of the cream pants – warm creamy ivory calls for a peach, coral, or salmon pink, while cool creamy white pairs well with a pale blush pink.
To bring this combination into the warmer months, try a short-sleeved or sleeveless light pink button-down with cream trousers and minimal white sneakers. For an office-ready look, don a tailored pink dress shirt with cropped cream pants and brown leather loafers. Dapper and seasonally appropriate!
Pink Shirt Black Jeans Combination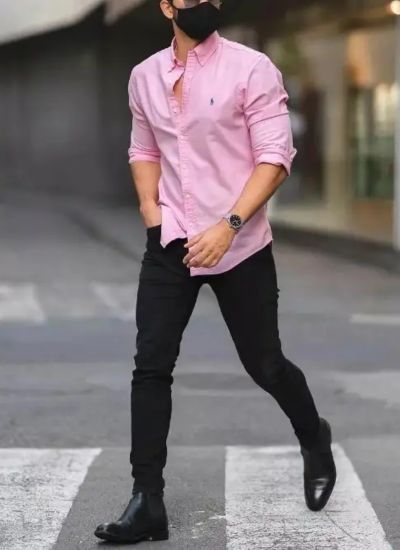 We've covered pairing pink shirts with grey, navy, and blue denim jeans – but don't overlook classic black jeans. A pink button-down or tee balances out the darker wash black denim, creating the perfect contrast.
For weekends, wear a short-sleeved pink polo or linen shirt untucked with fitted black jeans and white sneakers. Create a dressier going-out look by donning a bold pink dress shirt with cuffed black skinny jeans and Chelsea boots.
A crisp pink shirt freshens up black jeans for work or play. This combo allows the pink shirt to pop for a modern, stylish aesthetic.
Conclusion
With so many options to explore, pink shirts can elevate any man's wardrobe when thoughtfully matched with complementary pants. From pale pink with olive chinos, to magenta with black jeans, the possibilities are endless.
Use the pink shirt and pant pairings discussed here as a guide, but don't be afraid to get creative. Confidently embrace pink, pairing it with wardrobe basics like navy, black, white, and denim as well as more unique colors like cream, burgundy, and tan.
The most important tip? Have fun with pink shirts and find combinations that express your personal style. A touch of pink can take your outfits from basic to bold.
Frequently Asked Questions
What color pants go best with a pink shirt?
Versatile neutrals like grey, navy, black, and white tend to pair very well with pink shirts. Blue jeans also complement most shades of pink. Additionally, colors like olive, khaki, tan, and even burgundy can make stylish pairings.
What is the most versatile pink shirt color?
Light and soft pink shades have the most versatility. A baby pink, pale pink or powder pink button-down can be worn formally with a suit or casually with jeans. These lighter pinks pair with nearly any Pant color.
Can I wear a bright pink shirt to the office?
While extremely bold pink shirts are better suited for casual settings, there are ways to incorporate them into business attire. Pair a vivid pink with grey, navy, or black pants in a suit or dress trousers. Tone it down by choosing a dress shirt over a tee and wearing a blazer on top.
What shoes work best with pink shirts?
Versatile neutral shoes like brown leather oxfords or loafers, white sneakers, and tan suede Chelsea boots complement most pink shirt outfits. For black tie looks, classic black dress shoes are best.
What kind of pants should I avoid wearing with pink shirts?
Very loud prints or patterns tend to clash with pink shirts, so steer clear of plaids, bright graphics, or anything too visually busy. Distressed styles also tend to look mismatched with the formality of most pink shirts.
Can I wear a pink shirt casually?
Absolutely! Pair it with jeans on the weekends or even incorporate pink tees and polos into your regular rotation. Darker, bolder pinks tend to work best for casual looks.