Green shirts are a versatile addition to any man's wardrobe. The right shade of green can complement various skin tones, bringing out the best in your natural features. However, finding the perfect pant combination for your green shirt can seem daunting. With some expert tips, you can seamlessly match green shirts with pants in flattering colors and styles for any occasion.
This comprehensive guide explores complementary pant colors and styles for various green shirt shades and occasions. From laidback weekend outfits like an olive tee with blue jeans to sharp formal wear like a forest green dress shirt and black trousers, there are endless possibilities.
Best Green Shirt Matching Pants for Men
Light Green Shirt Matching Cream Color Pants
A light green shirt featuring a mint, pastel, or lime green hue pairs elegantly with cream or beige pants. The light green brightens up the neutral tone of the cream pants, creating a refreshing spring or summer look. Go for a cotton poplin or linen light green shirt to beat the heat. Pair it with casual flat-front chinos, trousers, or jeans in cream for a smart casual outfit. Finish with brown leather loafers or boots. For a dressier look, don a sea green dress shirt with cream dress pants and cognac oxfords.
A light green gingham or plaid shirt offers a relaxed vibe for weekend brunches or day dates. Combine it with off-white chinos and white sneakers for a sharp, laid-back style. When styling light green shirts with cream pants, avoid shades like neon green that may look garish. Pale green, mint green, or aqua green work best with cream.
Olive Green Shirt Matching White Pants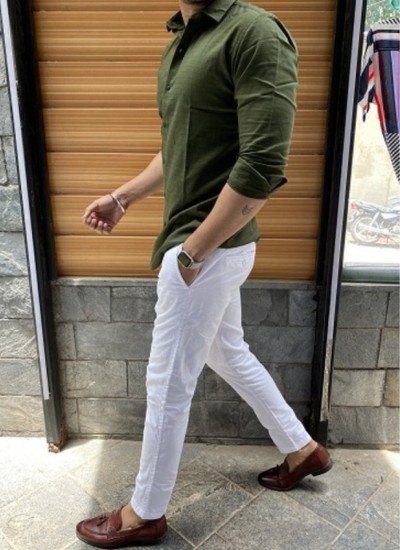 An olive green shirt exudes a masculine, military-inspired flair. When paired with crisp white pants, it creates an eye-catching contrast for a bold fashion statement. An olive shirt in cotton or linen with white chinos or trousers makes a sensational summer outfit. Finish with brown dress shoes or boots and a matching leather belt.
For a semi-formal look, tuck an olive button-down shirt into tailored white pants. A cotton olive shirt with white jeans creates a relaxed weekend vibe. Leave your olive shirt untucked over white jeans and slip on white sneakers for a street-style-inspired outfit. An olive green polo shirt also pairs well with white pants or shorts for a smart casual ensemble.
Green Shirt with Matching Navy Blue Pants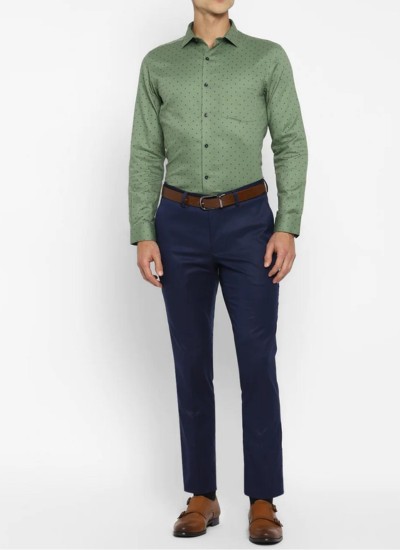 Navy blue pants perfectly match both light and dark green shirts. The pairing evokes nautical vibes while looking smart and polished. A green gingham or striped shirt with navy pants makes a preppy outfit, suitable for work or the weekend. Switch the navy trousers for dark-wash denim, teaming it with a plain forest green shirt for a more casual look.
During the colder months, don an emerald green sweater over a shirt and navy chinos for a sophisticated option for the office. For formal occasions, you can't go wrong with a navy suit and light green dress shirt combination. Tie it all together with a dark green patterned tie and brown dress shoes. The colors complement each other, conveying your fashion sense and attention to detail.
Dark Green Shirt Combination Pants in Black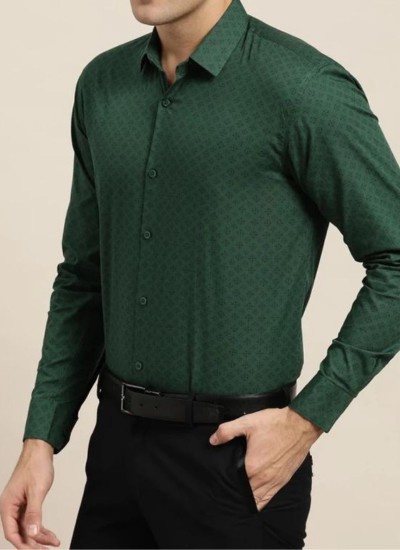 Dark green shirts in deep hues of pine, hunter, and forest green make an impact paired with black pants. The combination feels bold, modern, and elegant. A dark green shirt tucked into black jeans creates a casual cool look. For an edgier vibe, style it with a black biker jacket and black boots. Dark green also works beautifully with black joggers for laidback weekends or evening casual wear.
For formal and business wear, match a forest green dress shirt with black dress pants and black Oxford shoes. You can make the look work-appropriate by adding a navy blue or grey blazer over the green dress shirt. The deep green color conveys confidence and authority. When styling dark green shirts with black pants, ensure the shades complement each other. Avoid a matchy-matchy look by selecting rich, dark hues.
Green Shirt Matching Jeans in Blue
Green shirts pair effortlessly with denim for a classic, masculine look. Shade-wise, medium blue jeans complement most shades of green shirts. A light sage green shirt with medium-wash blue jeans creates a quintessential casual Friday outfit. For weekends, don a moss green tee with fitted dark indigo jeans and white sneakers.
During winter, try deep green flannel shirts with bootcut jeans in a vintage wash. Roll up the sleeves and keep the shirt unbuttoned over a white tee. Complete with tan work boots for a rustic outdoorsy vibe. Green shirts in neutral and jewel tones also gel well with black jeans for evenings out. Avoid shades like lime green that may look too flashy with denim. Pick rich greens that blend nicely with the blue of the jeans.
Green Color Shirt Matching Beige Pants
A green shirt in a blue-green aqua tone pairs excellently with beige and tan pants. The hues complement each other as both are setting neutral colors found in nature. A relaxed sea-green linen shirt with tan trousers makes a breezy summer outfit. For spring, wear a short-sleeved aqua-green polo shirt with cropped beige chinos and white plimsolls.
You can also don a teal green dress shirt with relaxed fit beige dress pants and brown brogues for work. Sea green knit sweaters and cardigans also pair nicely with beige pants for casual winter layering. Keep the rest of the look minimal when matching sea green with beige by opting for neutral accessories.
Plain Green Shirt Combination White Pants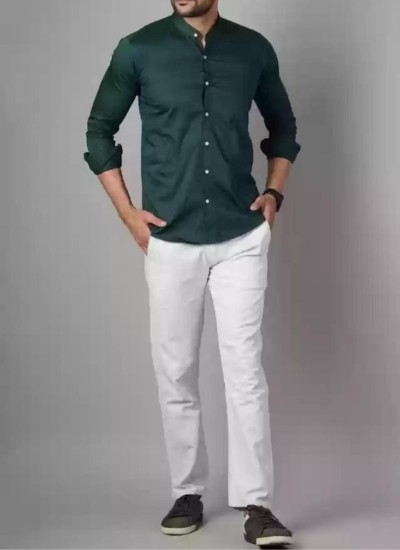 Nothing beats the classic elegance of a plain green shirt paired with crisp white pants. Whether it's a mint green polo shirt with white chinos or an emerald button-down with white trousers, the combo channels retro Gentlemen's style. For a relaxed vibe, wear a plain pastel green tee with white jeans and canvas shoes.
On the other hand, a Kelly green dress shirt tucked into white dress pants with a skinny black tie and black Oxfords exudes formal flair. For optimal harmony, avoid busy patterns and opt for a plain, solid green shirt in the pairing. Mint, sage, moss green, and apple green in muted tones work best with white.
Olive Green Shirt Matching Black Pant Combination
As discussed earlier, olive green shirts effortlessly match with black pants for a sleek, stylish look. The military olive tone works well with the slimming effect of black. Go for an olive utility jacket over a black tee and black jeans for an edgy casual outfit. For laidback weekends, pair an olive linen shirt with a black t-shirt inside and black joggers.
For formal occasions, an olive shirt and black pants combination never fails to impress. A cotton olive button-down tucked into tailored black trousers with black dress shoes makes for sharp formal suiting. Olive also pairs well with off-black jeans and trousers for smarter casual wear. When styling, ensure the olive shirts are not too oversized and baggy to avoid looking sloppy.
Plain Green Shirt Combination Navy Blue Pants
Similar to white pants, you can't go wrong with matching a plain green shirt with navy blue pants or jeans. Whether it's a muted sage polo shirt with navy chinos or an emerald green linen shirt with navy jeans, the colors complement perfectly. For cooler evenings, pair a forest green Oxford shirt with a navy blue sweater and pants for a coordinated look.
During summers, a vibrant plain green tee pairs well with navy blue shorts for a nautical vibe. For a business casual office look, don navy trousers with a fitted plain green shirt. Finish with brown loafers. The secret is choosing the right plain green that gels with the shade of navy blue rather than competing with it. Avoid bright plain greens and opt for mellow tones.
Olive Green Shirt with Blue Jeans
A perennial wardrobe favorite is an olive green shirt paired with blue jeans in various washes. The military olive tone works as a neutral that pairs with all shades of denim. For casual Fridays, don an olive button-down over a white tee and fitted medium blue jeans. Roll up the sleeves for a relaxed smart look.
During weekends, an olive green short-sleeved shirt with relaxed fit light blue jeans creates an effortless off-duty look. Layer a cotton olive military jacket over a white tee and bootcut vintage washed blue denim for a retro-inspired ensemble. Olive also complements black jeans and skinny jeans in indigo washes. Choose rich solid olive shirts rather than busy prints to complement the blue jeans better.
Mint Green Shirt with Cream Pants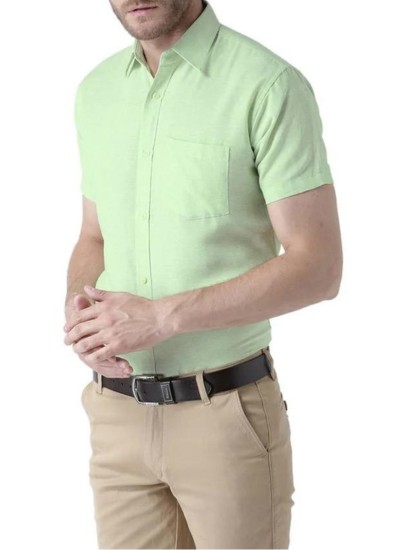 Mint green is a versatile pastel shade that pairs flawlessly with cream and beige pants. As discussed earlier in the article, a mint green tee or casual shirt with cream jeans, chinos, or trousers makes for an ideal spring/summer outfit. For the office, combine a cotton mint green shirt with cream dress pants and brown loafers. Doing yard work or heading outdoors? Opt for a mint green polo shirt with beige cargo shorts.
During colder months, team a mint green crew neck sweater with casual cream corduroys and suede desert boots. You can spice up the mint shirt and cream pant combination by layering a grey or tan blazer on top. Remember to avoid bright whites and opt for warm ivory, buttermilk, or off-white cream tones that complement the soft mint green rather than contrasting harshly.
Tips for Wearing Green Shirt Outfit Combinations
Choose the right undertone – Green shirts look best on warm, yellow-golden undertones rather than cool pink ones. Determine your skin's undertones before picking a green shirt hue.
Contrast textures – Pair smooth, crisp cotton green shirts with textured pants like linen, wool, or corduroy. Similarly, textured green knits complement smooth trouser fabrics.
Monochrome colors – Matching green shirts with green pants can be tricky. Opt for contrasting shades like an olive shirt with lime green pants.
Neutral pairings – Shades like white, navy, black, grey, and beige complement all green shirts. Pick pants in these versatile neutral colors.
Formal vs. casual – Darker forest greens and slim fits work for formal wear. Pastel and light green shirts pair well with casual relaxed fit pants.
Eye-catching outerwear – Layer green shirt combinations with blazers, coats, and jackets in tan, grey, navy, or black for a dashing finish.
Minimal accessories – Avoid loud prints, patterns, and accessories that compete with green shirts. Let the shirts be the highlight.
Mix, match, and layer green shirt pairings with pants in neutral and complementary colors. Always dress according to your skin tone, body type, and the occasion. With these tips, you can create head-turning yet tasteful green shirt and pant combinations for all events.
Some FAQs for green shirt and pant combinations for men:
What colors of pants pair well with light green shirts?
Light green shirts look great with off-white, cream, tan, beige, and light grey pants. Neutral colors like these complement the light green shirt nicely.
What kind of green shirt works for a formal look?
Dark green shades like hunter, pine, and forest green make for excellent formal wear when paired with black, grey, or navy pants. Opt for a fitted plain green dress shirt in these rich hues.
What color pants go with olive green shirts?
Olive green shirts pair exceptionally well with tan, brown, navy, black, white, and blue jeans. These neutral, versatile colors allow the olive green to pop.
Can I wear a bright green shirt casually?
Vibrant greens like lime, emerald, and grass green work best for casual settings paired with jeans. Avoid bright greens for formal occasions and stick to forest, olive, and sage greens instead.
What type of shoes should I wear with a green shirt outfit?
Brown leather shoes and boots complement most shades of green shirts for formal and smart casual wear. For casual outfits, opt for white or black sneakers and loafers.
What color jacket can I layer over a green shirt?
Navy, black, grey, tan, and brown jackets and coats stylishly complement green shirt combinations. Olive green shirts, in particular, pair well with tan and brown jackets.
Should I tuck or untuck my green shirt?
It depends on the occasion – tuck in fitted green shirts for formal events and leave relaxed casual green shirts untucked with jeans.
How do I avoid looking washed out in a light green shirt?
Opt for warm, golden undertone pairings like cream, tan, and beige pants. Add a blazer in navy or grey on top. Avoid stark whites.
What green shirts flatter warmer skin tones?
Warm golden complexions look great in green earth tones like olive, moss green, and forest green rather than cool pastel mint greens.